Welcome traveler to...
ELEMENTAL WARS!
Hundreds of years back... There were four groups that kept the world safe from chaos. The groups were all elements, Fire, Water, Earth, and Celestial. Then they had to fight off a new evolved age of evil. They had to fight with they're amulets and create a blast of power to destroy all evil. There was a catch though, they were sent back into their amulets and never seen again, but evil came back slowly...

Now there are four kingdoms that date back to the elemental ancestors, unfortunately chaos has corrupted them and they have not cooperated with each other and have been sent to face war with each other to find the best society.
Elemental Wars Map: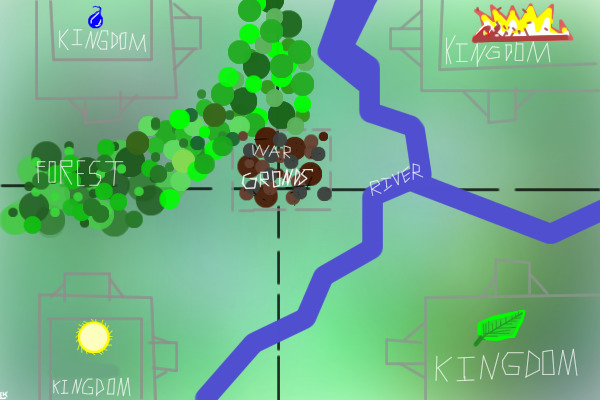 A few things to know about this roleplay:
This is a roleplay that can use Chicken Smoothie or Eldemore pets. I prefer Chicken Smoothie pets because you can use items, Eldemore pets are fine though. If you have a question, idea, or problem, just pm me.

Players:
1. LazerBurn
2. Coyote
3.
4.
5.
(I will add more as the list is filled up.)

Players banned from roleplay:
1.
2.
3.
4.
5.
(I will add more as the list is filled up.)


Rules:
1.Please keep in mind all Eldemore rules and do

NOT

mention/show anything sexual or racial.
2.You can only have up to one character at a time.
3.No spam.
4.Be friendly and nice to everyone.
5.If you see or notice something inappropriate that a player has posted, please report it to a staff member or pm me.
6.If you die you can make a new character, but you can not remake your past character.
7. Please be mature when posting.
8. Anyone who brakes one of these rules receives a strike. Three strikes and your banned from this roleplay. I will list strikes next to the name of the player.
(More rules can be added, so keep common sense people.)