Main Character/Eldemorian
Made by the amazing Griff -- Thank you!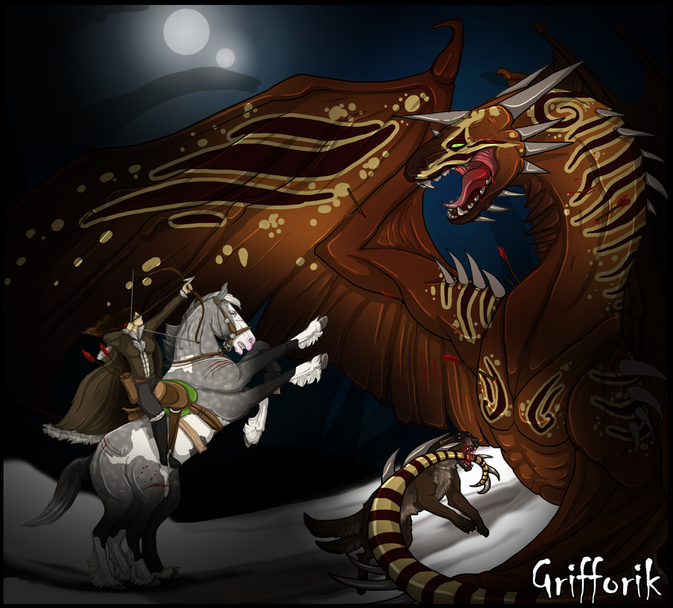 PLEASE -- Click this link for full size image.
Link
.
Name
:
Kisa
Additional Information- Charahub
*Click to read extra info!*
Race
:
Human- Nors
Age
:
Mid 20's
Height/Weight
:
5'5
120lbs
Physical Description
:
5'5 Human Nors Female. Lightly tanned, but fair skin. Dark black hair with blue highlights in the sun. Deep forest green eyes. A single scar over her right eye.
Occupation
:
Sleipnir Keeper, Breeder, & Drake Hunter
Companions
:
Skijor (ski-yor)- Male Sleipnir
Lupos- Male Dire Wolf
Personality
:
Leadership, Brave, Hardy, Educated, Hard Working, Loving,
Extremist, Calm, Explorer, Friendly.
Biography

:
Early Life-
Kisa was born into a family of Nors people. Her mother was the Sleipnir Keeper and Breeder. Her father was a Dire Wolf trainer and drake hunter. Well, from being raised from two important people, she learned about how to raise and train Dire Wolves, and how to ride the mighty Sleipnirs. Her people were Rune Drake hunters. Annual and Occasional hunts were set; in search of the elusive beasts. They were rare and powerful, a mighty trophy to have, but the hunts usually came up as nothing, a disaster, or triumph.
Sleipnirs and Dire Wolves were companions to all the Nors people. To live off the lands you needed both. At home Dire Wolves were protection and kept pests away. Sleipnirs were traveling aid, as living on rocky mountains were tough, but nothing a strong Sleipnir couldn't handle. While on the hunt the Dire Wolves scented out for miles, days upon days searching for the Rune Drakes. Sleipnirs were the sturdy and hardy steeds to climb such mountains. Also both able to endure harsh weather.
One day on a regular search her mother and father took part in a hunt... they and 3 others never returned. Kisa turned to her mothers work, to keep the strong line of Sleipnirs growing. At the age of 16 she helped birth a Sleipnir, and colt, naming him Skijor. He would be hers and hers only. When she wasn't tending to the Sleipnirs, her and Skijor trained. Riding mountains, or running as long as they could. He was a very trusty, and skilled beast. One of her very best.
Finally at the coming of age at 20 she was taken on her first Rune Drake hunt. It was 5 of her people, then herself on the hunt, along with 8 Dire Wolves, and 6 Sleipnirs, one steed for each person. The hunt lasted days... or was it weeks? She couldn't remember. It was the middle of winter and as days kept going the hunt seemed to end. As her people began to head back home, stopped in their tracks. A roar with a flap of wings, landed a mighty Rune Drake before them. The action began. The Dire Wolves snapped and snarled at the beast as distraction, as the people fired arrows with bows. The fight continued for minutes, and the Drake had taken many hits. As it began to weaken Kisa had gotten to close. With one sweep of the Drakes wing, it crashed into the side of Skijor, causing both Skijor and Kisa to crash to the ground. The Drake came at Kisa, jaws open to finish the job, until a Dire Wolf stood over her, as protection. The youngest Dire, also on his first hunt, Lupos. Lupos had distracted the beast long enough, just enough for someone to deliver the final blow to the drake, causing it to fall on its side. The Dire Wolves took care of the rest. Kisa covered her right eye; it had a nice gash, definitely severe enough to leave a scar. Her first thought was Skijor. Running to her Sleipnir, the beast had only had the wind knocked out of him, and with grunts stood back up.
She headed home with her companion, and also her newest. Lupos hadn't left her side. They brought home the mighty Rune Drake for all to see at triumph and to celebrate a hunt well done. This was the first of her many other hunts.
Current Life-
Kisa continues her work, raising and training Sleipnirs for her people. She also breaks tradition and sells her Sleipnirs to other Races, willing to buy her beasts. She is friendly and welcoming of all races, being Wolf-kin, Human, Avian, or even Elvian, it did not matter to her. Although most did not like her for her Rune Drake hunting. Disrespect her, or her people, and you will never see her kindness again.
When Kisa isnt working hard on her Sleipnirs, she traveled the lands with Skijor and Lupos. Her faithful companions. Meeting new faces, and friends is great to her, but exploring everything Eldemore has to give, and its secrets is even greater. She continues to work hard and hunt as tradition tells her, but will continue to take compassion to all around her, as her soul tells her.
The Companions
Additional Information- Charahub
*Click to read extra info!*
Name
:
Skijor
Breed
:
Male Sleipnir
Age
:
10
Additional Information- Charahub
*Click to read extra info!*
Name
:
Lupos
Breed
:
Dire Wolf
Age
:
5